Excuse the disappearing act this week – I had planned on sharing my trip to Peru with you while I was there, but after quickly realizing that the average time to upload a simple Instagram photo was about an hour, I figured blog posting would have to wait. Of course, now all I want is to serve you this overflowing platter of words and photos.
(Hey, don't run away! It's only like 20 25 33 40 photos. That shows restraint, right?)
What an eye-opening, inspirational, and informative trip I had; in fact, the reality that I was only there for 3 full days is shocking, given everything I learned and experienced. On the trip with me were three of my wonderful colleagues, Kristen, Heather, and Rebecca, and it was so cool to experience one of my favorite organizations, Krochet Kids, with them by my side.
Krochet Kids intl. exists to help impoverished, vulnerable women get on their feet by providing them a supportive workspace, stable income, in-house childcare, and an incredible mentoring program that addresses not only the financial aspects of their lives, but the psychological, emotional, and social aspects as well. (I'll be honest, before seeing the organization and mentors in action, I imagined "mentoring" to be a pat on the back and some positive, affirming words. It is so much more. SO much more…these women are truly changing all aspects of their lives with a very detailed and measurable program provided to them by the organization. KK intl. gives these women everything they need to start their own businesses once completing the program. More on that later…)
And, oh yeah, let's not forget to mention what these women create. Beautiful, handcrafted accessories and apparel for men, women, and children.
This trip was my first time visiting an impoverished area in another country, and I really wasn't sure what to expect. A couple of bloggers on the trip had spent a fair amount of time in such areas before, but I was as inexperienced as it gets. Let me be honest – it was shocking, and got me spinning a bit. It took me about 1.3 seconds to realize that my life is a bit sheltered. You can read the stories and look at the photos, but it's not until you are physically standing on a dusty road surrounded by decrepit buildings, some with no running water, piles of trash and and stray animals at every turn that you actually feel the enormity of your own privilege.
On the first full day, we had the honor of spending the day with two Krochet Kids participants, Lesly and Beatriz. They invited us into their homes in the district of Chorrillos and prepared a traditional Peruvian meal for us, which was beyond kind and generous.
First, we picked up Lesly from her home, shown above with the pink door – she has a space next to her mother's market. Leslie gave us a tour of her place, which was one small room with a partitioned-off kitchen, two small beds, and a makeshift corrugated metal roof.
We also got to meet her son, Joshua.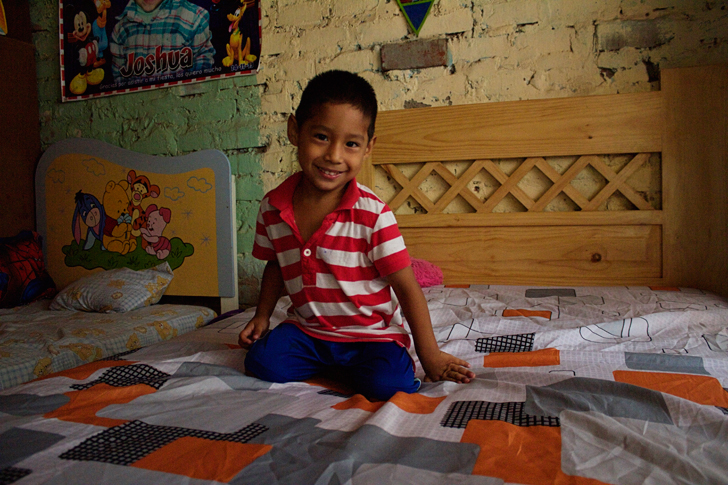 It's truly unfortunate that he isn't very cute. So sad.
Next, we spent time at the home of Beatriz.
She lives in a modest room on the roof of a three-story building with her son, Paul.
Beatriz has been in an on-again, off-again abusive relationship and currently is working through that situation with the help of the KK intl. mentoring program. From what I learned, most women in this socio-economic class are born and raised to have children and take care of their husband. Period. That kind of thinking can keep women bound to the home, and KK intl. is helping them to see opportunities and possibilities beyond that (important, yet restrictive) role.
After getting to know each other with the help of Peru Country Director, Blake Goodfellow (forever grateful for his hospitality AND translation skills), and pretty much falling in love with adorable, spirited Paul (he talked to me animatedly about the above photo album for at least 45 minutes – of course, I had no idea what he was telling me due to my abysmal Spanish. "Si!" Bueno! Bonita! Guapo!" were the extent of my responses), we decided to head to the market to purchase the day's groceries. Most do not have a refrigerator, so it's a daily necessity to travel to the market to purchase items.
The district of Chorrillos is extremely hilly, so walking to the market would be quite taxing, considering it's steep incline, so we took a combi.
I guess you could describe a combi as an open air minivan packed with passengers – and by "open air," I mean they never shut the large sliding door so you best be holding on, people. However, unlike the above photo, ours hauled ass up unpaved hills, while I tried not to smother people with my inability to stay balanced.
One of the most amusing moments of the day was on that combi ride. The woman sitting next to me had her toddler in her lap, and when another mother with child hopped on the combi and had no place to sit, the seated mother offered to hold the other's baby on her lap. Oh boy, that toddler DID NOT appreciate another baby on her mother's lap. She was having none of it, and it was hilarious. She made it very clear with some well-placed swats to the offending baby's noggin.
The market was a packed (figuratively and literally) sensory experience.
Paul and I made his SYTYCD audition video there.
After the market, we made our way back to Beatriz's home to prepare the meal.
There is one shared sink in the building outside on the roof for the tenants to use for meal preparation, washing clothes, and sanitation.
This traditional meal is called bisteck – marinated beef in garlic, lime and oil, plus corn (the kernels are huge there!), rice and boiled potatoes.
During lunch, we chatted with the women about their lives, jobs (once again, Blake Goodfellow translation FTW), and the challenges of being a working mom. The in-house childcare at KK intl. is such a huge factor for these women – they wouldn't be able to work without it. And let me just say, the facility is such a happy place filled with tons of smiling faces.
It was an extremely memorable day for me, and next week I will post about my visit to the KK intl. headquarters where I witnessed how the KK intl. vision comes together and becomes reality. In the meantime, please check out what we're trying to achieve for these women.
There are two ways to help fund the mentoring project at KK intl. For $35/month, you can sponsor a woman in the program to receive top-level training from the local Peruvian staff and partners. 100% of your donation goes directly to the programs in Peru, and you can donate for several months or just a one-time donation is wonderful. Donate here.
Secondly, 80% of the Krochet Kids mentoring program is funded by the sale of product. I invite you to take a look at the Spring 2015 line and purchase an item (or two!) to help support these women. I'm pretty sure your closet will thank you as well. (I've already got my eye on a couple of pieces for my spring capsule.)
Until next week!
If you want to learn more about Krochet Kids, check them out here. You can also see more photos from our trip on Instagram with the hashtag #knowwhomadeit, and read the experiences of Heather, Rebecca, and Kristen.
thanks to the lovely and talented Joy Jeong for taking several of these photos